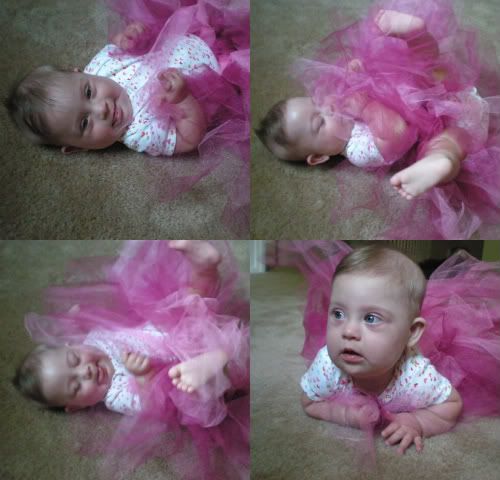 This weekend we had some visitors. My Aunt B and her husband, Karl, stopped over for the night on Friday on their way to the beach. We had some beers and grilled out. It was a nice time. Since Rachel was asleep by the time they got in to town, they only got to see Rachel very briefly the next morning before they left. And, of course, I didn't think to take a picture.
Sunday, my dad, Grandpa C paid us a visit. Well, more like paid Rachel a visit. We all know who he was here to see. She took some time to warm up to him again (like all people) but by today she was all smiles. She really likes to be tickled, oddly enough.
We have a lot of things coming up that I'll be posting about. We'd like to take a trip to the local pool a
nd
attend a play date on Friday. She has a PT appointment with our favorite PT, Lisa. Lisa hasn't seen Rachel in about three or so weeks so I can't wait for her to see Rachel and all the progress she has made. We have the sleep study follow up on the 22nd where we will find out the results, a follow up with her surgeon on the 24th and also on that day, a follow up ultrasound and meeting with the
Nephrologist
. Then another play date at our house and her nine month check up on the 28th. Can I tell you how excited I am for all these appointments?? I can't wait to show all these doctors how well she is doing and I can't wait to see how big she has grown. This month is going by so quickly. I'm already thinking about Rachel's First Birthday Party and that just seems unreal. How can it be coming so fast. Didn't I just have her?